DVB-C headend and IP backbone solution for IMCL
Teleste Luminato was deployed by IMCL for the delivery of over 450 Digital TV services in Mumbai. The project was carried out together with Mehta Infocom, Teleste's partner in India.
Teleste Luminato headends have been successfully deployed in India for many years. Ensuring seamless integration of the technology to local conditions and requirements, the deployments are carried out in close collaboration with local partners. The effective deployment of the Luminato platform to IndusInd Media & Communications Ltd. (IMCL) was accomplished together with Mehta Infocom, Teleste's partner in India.
Customer need
The task was to multiplex and encrypt over 450 Digital TV Services and deliver them via QAM Outputs and IP Backbone to more than 20 Remote Headends.
IndusInd Media & Communications Ltd. (IMCL), a subsidiary of Hinduja Ventures Limited, is one of India's largest integrated media companies. The company is a pioneer and one of the largest multi-system operators in the country. With an estimated 8.5 million subscribers in 36 major cities, it offers over 450 channels in digital mode. In all IMCL cable television networks, digital transmission is enabled by the IP backbone and digital headends. The system they used so far to fulfil the digital transmission proved to be inflexible and very expensive, since it consisted of devices from different manufacturers and thus was not very reliable. The requirement now was to use a single platform for multiplexing, scrambling, QAM outputs and IP outputs, all the attributes that the Teleste Luminato system brings together.
Solution to customer's need
At the heart of this application are the DVB-C modulator modules of the Luminato system, as they are used for scrambling, multiplexing and QAM modulation. The received MPEG-2/4 standard definition as well as high definition SPTS / MPTS IP streams are processed accordingly so that they can be used both as multiplexed encrypted QAM via the DVB-C modulator module (max 24 TS) and as IP MPTS streams via the payload interface to be fed into the networks.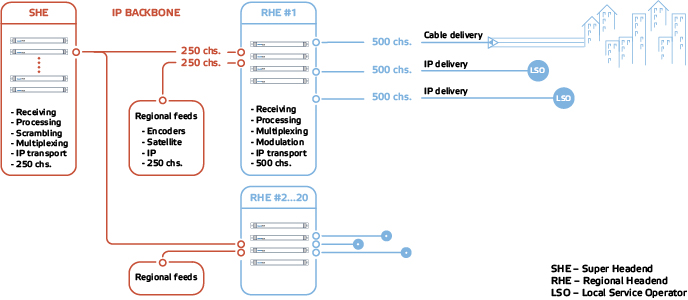 Overall, the following services are processed in the platform:
200 satellite services from 6 different satellite positions
60 HDTV services with a payload between 8-10 Mbps
160 SDTV services with a payload between 2-4 Mbps
30 NVOD services with a payload between 2-4 Mbps

All digital services are multiplexed in different QAM multiplexes in the Teleste Luminato platform. A total of 44 QAM muxes are generated to deliver approximately 450 services, while Nagravision Aladin, Merlin (CLK / DLK) and Conax CAS are used to encrypt channels in the Luminato multiplexer.
The integration of Luminato with all major conditional access systems provides multiple content aggregation options for services from multiple sources, making Luminato the most versatile content protection headend platform in the market.
For maximum operational reliability, a Luminato is equipped with a back-up power supply, which is sufficient for the entire system – an essential difference to the system previously used in IMCL.
Benefits achieved
With the use of the Luminato system, the following advantages are achieved:
Multiplexing, Scrambling, QAM Outputs and IP Outputs in a single platform.
A pure IP-based backbone transmission.
Smallest form factor – 1U high handling up to 950 Mbps per port.
Low power consumption, max. 120 W for a complete chassis
Competitive price

The Luminato headend platform is known for its high reliability in operation and has delivered its quality promise in this project as well. In addition, the long-term relationship between IMCL, Mehta Infocomm and Teleste has resulted in further large and successful projects by various national and regional MSOs PAN India.