FTTx Innovation Cycle
As operators deploy more FTTx solutions, it is important that they have the necessary products to facilitate effective network builds and simplify customer installations, ultimately converting homes passed into homes connected.
What sets Teleste apart in the marketplace is our ability to collaborate with customers, understand their issues and needs, and promptly design solutions to address these concerns, delivering products and solutions quickly and efficiently.
We dedicate time at the beginning of each project to listen to all the requirements that a customer has, including what is currently working for them and what elements they would like to change or improve. We then capture all of this in a requirements scope and proceed to the product design stage.
Our FTTx design capabilities mean we can provide concept drawings and specifications within 2 weeks of defining the product requirements in the customer requests. We review these with the customer to ensure we have correctly captured all their needs and we explain our innovation and knowledge input to the product designs. Once the customer is happy, we proceed to the 3D printing stage.
It takes us only 2 weeks to rapidly print both hard and soft parts of any product and deliver them by hand to the customer for review. At this stage, we ensure that the 3D product accurately reflects the customer's needs and that all items are covered before we commit to manufacture.
Once we have the agreement to proceed to manufacture, we make any required tooling and agree on cost-effective Minimum order Quantities. This is where we offer an advantage to customers, as our MoQs are typically smaller than the competition. We also agree on shipping options to deliver the products to the customer cost-effectively and within a target of 8 weeks.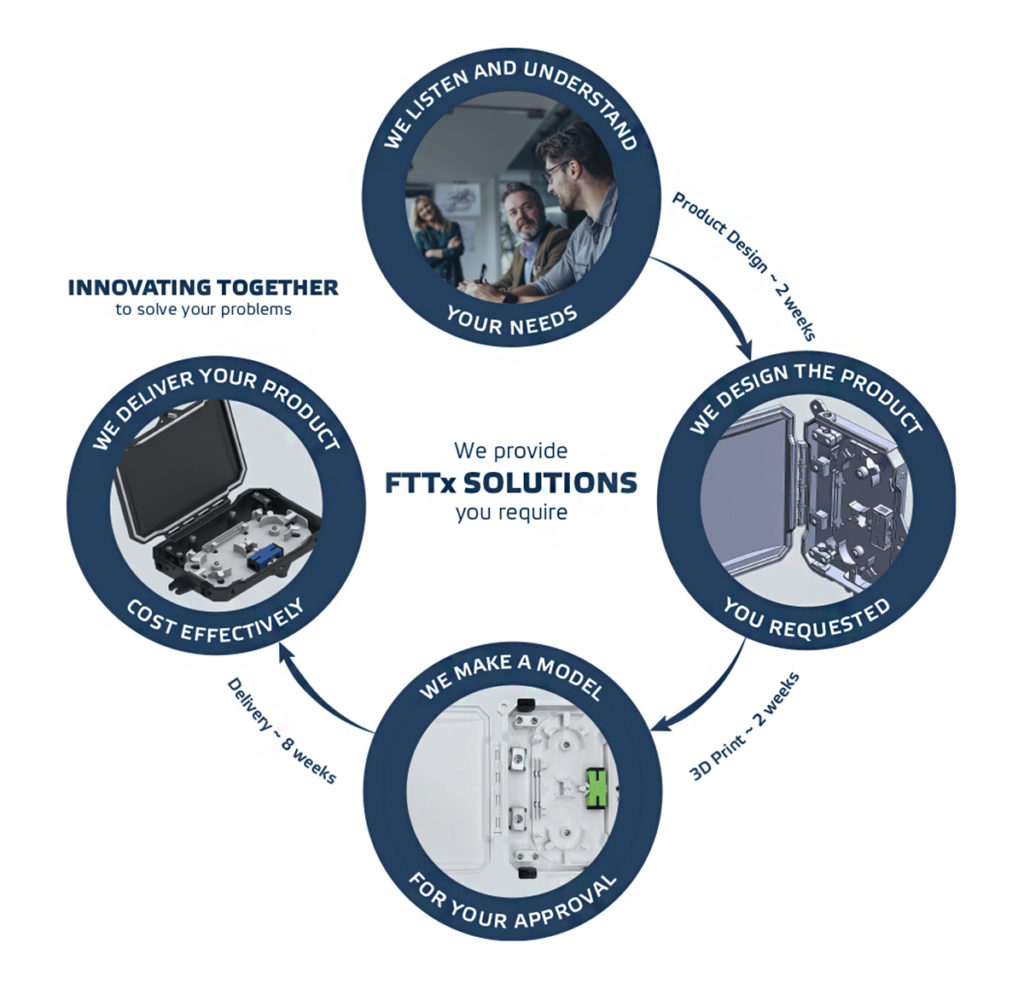 This rapid approach we call our Innovation Cycle.
Through the Innovation Cycle process, we have developed many products and solutions for customer needs across all parts of the FTTx network roll-outs and customer installations.
For example, a very critical area for operators is the challenge of getting access to the premises to make a connection. For buildings where it is not possible or desirable to run cabling internally, we have developed an outdoor box that allows the cabling to be run outside the building with the required weather protection, making the customer's install easier and quicker. Utilising our agile approach, we were able to rapidly provide a solution for the operator and customer while also keeping the building owner satisfied.
Whatever your FTTx requirements, with our Innovation Cycle, we can rapidly deliver the solutions you need.
Robert Wilkins