How do you migrate to 10G without getting a migraine?
In recent years, the cable industry has enjoyed a plethora of technologies, architectures and abbreviations to chew on. Navigating through the maze can sometimes be difficult, especially if you are not closely following the work of CableLabs and SCTE. In this blog post, I am focusing on the distributed access architecture (DAA) evolution and trying to make sense of why the industry is today talking about Remote PHY and MACPHY architectures as options for the future cable access networks.
Networks are evolving rapidly on many fronts. The back-office is transforming from purpose-built hardware and "big iron" implementations to cloud-native virtual applications. The DOCSIS standard itself has also been constantly evolving. DOCSIS 3.1 is pretty much mainstream today and, to push the networks to the 10G speeds, plans for DOCSIS 4.0 migration and extending the spectrum from 1.2 GHz to 1.8 GHz are already being drafted. DAA technologies including Remote PHY and MACPHY are being promoted, speeding up a major transformation from analogue optics to Ethernet and IP-based transmission and converged interconnect networks (CIN).
As many of the developments are interconnected, operators need a package of roadmap plans to move simultaneously forward on the many parallel frontiers.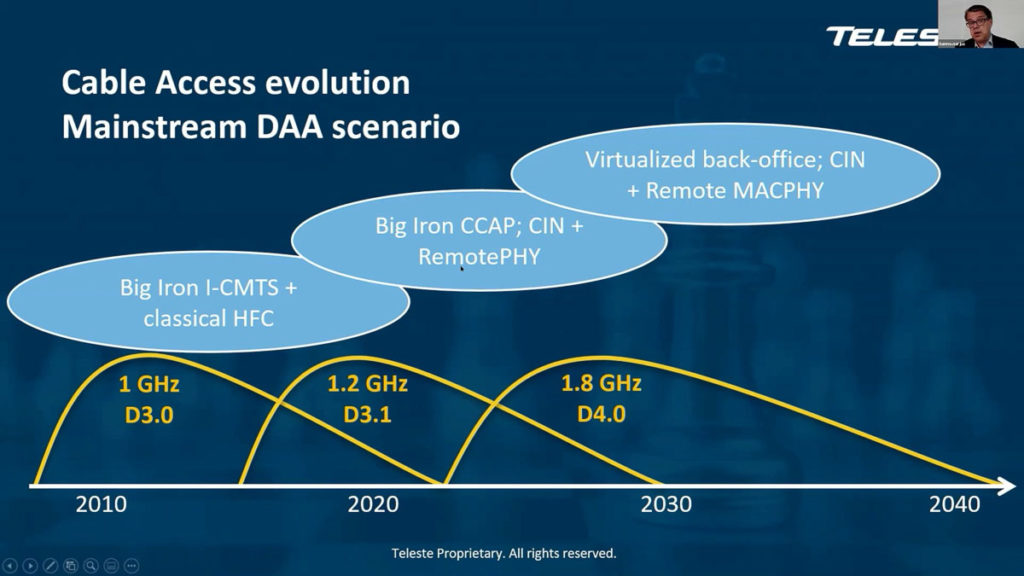 Stages of cable access evolution:
Back-office: from hardware-based CMTS and CCAP core deployments to fully virtualised back office
DAA: from pre-standard MACPHY to Remote PHY and standardised MACPHY
DOCSIS: from DOCSIS 3.0 to DOCSIS 4.0
Cable access: from classical analogue optics and 1 GHz HFC to CIN and 1.8 GHz HFC
Why is the cable industry changing architectures at such a high pace?
The way I see it, one of the industry's main reasons to move to Remote PHY was the existing CCAP core assets. DOCSIS 3.1 capable CCAP core systems were deployed already in 2014-2015 and, by the time the Remote PHY technology was mature and ready for deployment, a sizeable installed base of the DOCSIS 3.1 CCAP cores already existed with plenty of lifetime ahead. This investment would have been wasted by moving to networks based on Remote MACPHY devices (RMD), and well-working capacity would have been thrown away.
These are also big architectural changes within the systems. The cable industry has traditionally opted for predictable, step-by-step development, avoiding major technology risks. Remote PHY allows operators to take the big step of replacing analogue optics with CIN networks without carrying out complex reintegration of the back-office simultaneously.
In addition, there were also concerns related to moving MAC functionality to the field, including questions on power consumption, as well as deploying and maintaining tens of thousands of RMDs. The common understanding within the industry was to ensure a committed multivendor ecosystem to back up technology transformation, and this was achieved with Remote PHY. When Remote PHY was selected as the way forward, a solid set of specifications was published by CableLabs to guide its development and deployment.
If Remote PHY works, why move to MACPHY?
The big iron CCAP core installed base is now aging, and it needs to be gradually replaced when moving towards DOCSIS 4.0. This gives operators more freedom for strategic decisions. Today, a strong consensus exists over moving the back-office from purpose-built hardware solutions to virtualised cloud environments to achieve a more dynamic way to manage back-office assets. The same development is taking place also in the mobile industry today, and there is no reason why fixed DOCSIS networks could not follow or even lead.
Within the framework is also the question of latency. Pushing the real-time MAC processing to the field devices gives more freedom in virtualisation of the back-office. Distance limits are gone, more flexible centralisations can be done, and there is more freedom for implementations once the real-time processes are running on the RMD itself. With the most recent Systems-on-a-Chip alternatives, it also looks very feasible to implement RMD within the existing power constraints. Robust MACPHY implementations have already been done by several vendors and the advanced network management tools are there to support the maintenance of the device in the field through, e.g., automation.
DAA is a mandatory step for all coax-based network evolution strategies. It leads to 10G broadband speeds with the existing coaxial assets and enables automation through virtualisation and next-generation telemetry tools. With CIN enabling converged fixed-mobile networks, operators can also lower CAPEX and OPEX per subscriber of their versatile infrastructure. All this can be achieved in a predictable manner in two steps: begin the work now with the mature DOCSIS 3.1 technology, CIN networks and Remote PHY-based distributed access, and then start preparing for MACPHY and virtualisation as the next step on the network evolution path towards 10G.
Click below for remedies for the technology headache on video! The presentation was originally given at ANGA COM 2021.
Hanno Narjus
Hanno Narjus
I'm currently in charge of Teleste's global Networks business, and the CEO of the US-based Teleste Intercept. During more than 30 years in the ICT sector and the cable broadband industry, I have hold several decisive positions enabling me to drive the continuous evolution of network technologies that improve cable MSOs total cost of ownership alongside the quality of services for subscribers. See my LinkedIn.
Read all my blog posts