DNA tests Teleste's SmartRIS automated ingress control
DNA and Teleste measure the impact of software-based ingress control on operational network management in a six-month trial started in 2019.
DNA Plc is Finland's largest cable operator that has more than 4 million subscriptions in its fixed and mobile communications networks.
Customer need
Ingress is a major cause of service outages and Internet connectivity problems in broadband networks. Typically, it enters the network through in-home devices such as faulty or damaged cables and connectors, cable modems, wall outlets and other hardware faults. Once emerged, ingress travels up the network, affecting a growing number of subscribers and reducing their satisfaction with the operator's services.
In addition to its negative impact on the quality of service, a major problem with ingress is that its entry point is laborious to identify and locate. Searching for ingress requires a lot of manual maintenance and monitoring work in the network operations centre, while the problem in field is that technicians may need to search for each particular source of ingress from one amplifier station to another – only to find out, in many cases, that the faulty device is located behind locked doors at a subscriber's premises. This makes solving ingress issues slow and requires significant amounts of truck rolls annually.
To take a new approach to battling ingress, the Finnish operator DNA decided to evaluate Teleste's SmartRIS automatic ingress detection function in their network in Southern Finland. During a six-month trial launched in 2019, DNA and Teleste measured the impact of a software-based ingress control in identifying service issues in the network. The target is to gather real, comparable data on how effectively the SmartRIS process can be utilised in the operational work to improve the subscribers' quality of service.
Solution to customer's need
SmartRIS is an automation process running in the Teleste Argus server. It utilises built-in ingress analyser and switch functions in Teleste's intelligent nodes and amplifiers to measure and locate ingress. Once an alarm is received, SmartRIS starts iterating for the ingress input point down from the node, activating ingress switches one by one until the last effective switch is found.
The automated ingress switch process allows operators to:
Quickly locate where ingress enters the network
Isolate ingress issues and minimise the number of affected subscribers
Free their technical teams from manual control of ingress switches
Concentrate on root cause analysis instead of the ingress search process
Perform field repairs more efficiently and without unnecessary truck rolls
Improve quality of service shortening the outages caused by repair work
Utilise the stored SmartRIS data in network planning and upgrades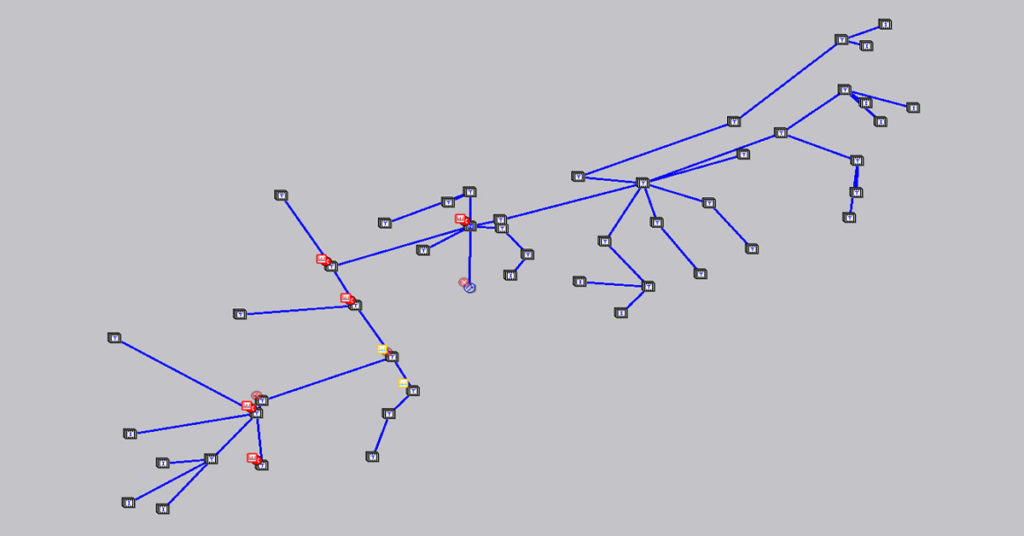 To get a clear view of how SmartRIS can benefit the operative network maintenance, the test with DNA concentrates on measuring the process in terms of reliability and effectiveness in identifying service issues. In addition to SmartRIS in the CATVisor Argus NMS system, the test utilises Teleste's intelligent network devices already installed in DNA's network. Teleste has also created a comprehensive network model to Argus for the needs of DNA's network maintenance team.
Products utilised in the trial:
Benefits achieved
The first test results show data from the Argus system including the number of started SmartRIS ingress searches, the number of ingress switch activations performed by the SmartRIS as well as location data from the field devices.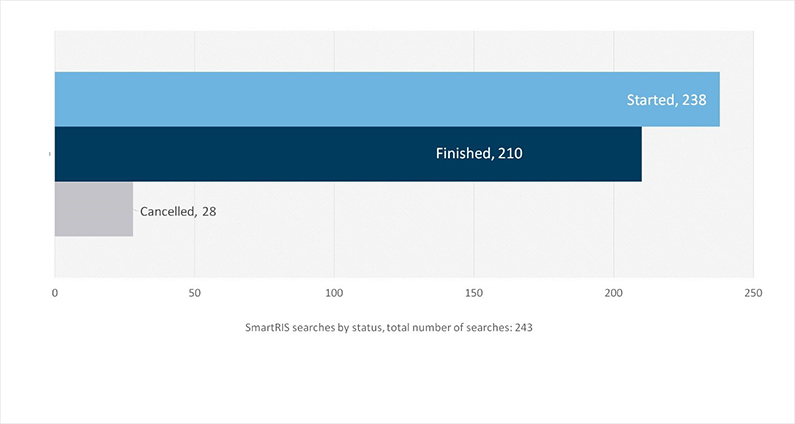 Figure 2. Started SmartRIS ingress searches by outcome
Started: The number of started searches during the first 2.5 months of the trial: 238
Cancelled: The number of searches in which ingress disappeared from the network before it was located: 28
Finished: The number of searches in which ingress was successfully located: 210
Result: 88% of the started SmartRIS searches were successful.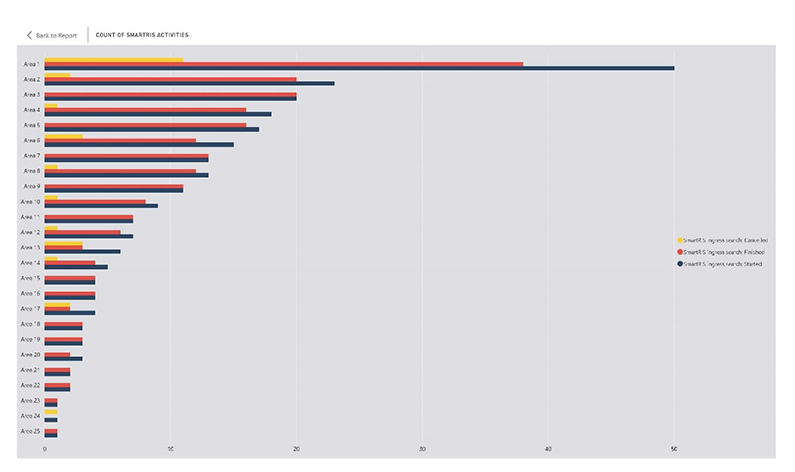 Figure 3. SmartRIS searches by area:
Started: The number of started searches during the first 2.5 months of the trial: 238
Cancelled: The number of searches in which ingress disappeared from the network before it was located
Finished: The number of searches in which ingress was successfully located
Area: Network area or subnetwork (Address information here removed)
Result: SmartRIS provides accurate location information related to the searches, helping operators to identify network areas with frequent issues.
The data from DNA also shows that during the 238 started ingress searches, SmartRIS performed 3903 ingress switch activations, leading to the following outcome:
Started SmartRIS searches: 238
Ingress switch activations: 3903
Ingress switch activations per search, on average: 16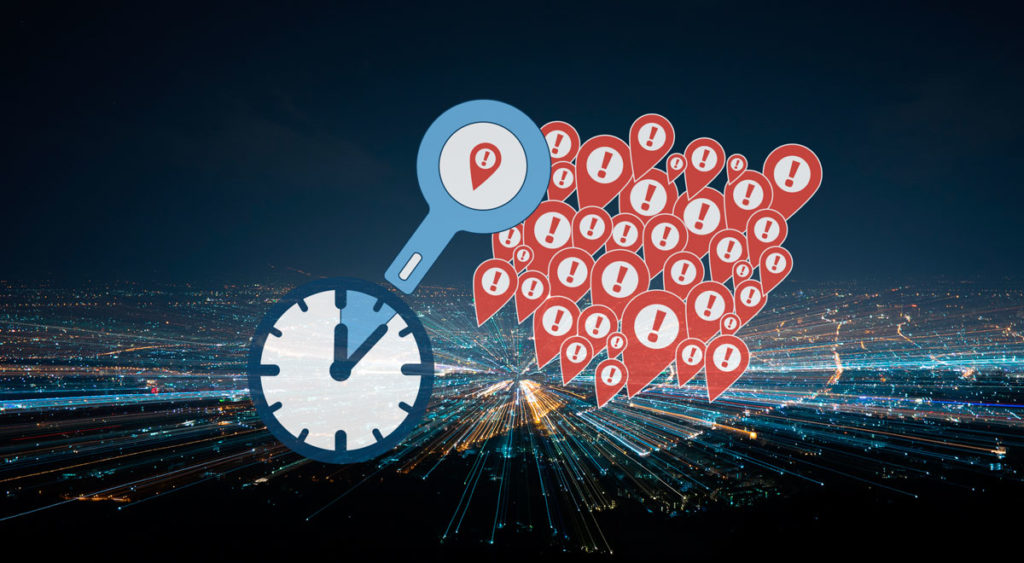 Key findings
Manual identification of network ingress requires searching and combining data from several systems, which is time-consuming and laborious. Compared to the manual work, the automated SmartRIS process saves a significant amount of time and resources as it can activate even hundreds of ingress switches in a minute to locate ingress sources.
Working 24/7, SmartRIS stores information about searches and their status not only for real-time review but also for further analysis. Operators can achieve clear understanding of what is happening in their network around the clock.
Accurate locational data helps operators identify network areas with more frequent service issues. The information can be used to target network upgrades and maintenance activities to areas where they benefit the subscribers most.
In addition to searching for ingress, SmartRIS also provides DNA with further opportunities for ingress control through automatic ingress attenuation. While the SmartRIS search process activates and releases ingress switches until the last effective switch, the automatic attenuation leaves the last effective switch on. This prevents ingress from spreading deeper in the network and limits the number of subscribers affected by service issues.
While the final conclusions will be available only after the six-month test period, it is safe to say that SmartRIS has already proven its usability in improving operational network management. The automated process has reduced the need for manual network monitoring and control of the ingress switches whereas the accurate location information can be used to cut down the time for repairs on site. In addition, the availability of real-time data provides tools for better understanding and analysis of what is happening in the network, thus helping plan upcoming upgrades and maintenance activities.