DOCSIS Hospitality TV solution with Samsung for the Balmoral Hotel
Balmoral Hotel in Barcelona, Spain, utilizes an All-IP solution from Teleste and Samsung to provide their guests with modern, IP-based video and entertainment services.
The Balmoral Hotel is a four-star hotel located in the Barcelona city centre, near Gaudi's famous building "La Pedrera" and close to "La Diagonal", the Passeig de Gràcia, and La Rambla Catalunya. The hotel was constructed 50 years ago, and it went through a major renovation 3 years ago. It has 103 guest rooms and meeting rooms for up to 180 people, along with other facilities. The hotel also offers a free Wi-Fi connection for its guests at the premises.
Customer need
The Balmoral Hotel was seeking a solution to offer their guests with connectivity and personalised entertainment experiences comparable to those they enjoy at home. Today, services that enable guests to easily stay in touch with their social and professional networks are among the key requirements when choosing a hotel.
As the Balmoral Hotel was renovated 3-4 years ago, a special requirement for the project was not to damage the property and cause a need for repairs. In addition to easy and fast installation, the hotel management emphasised stability of the solution and the level of included features and functionalities.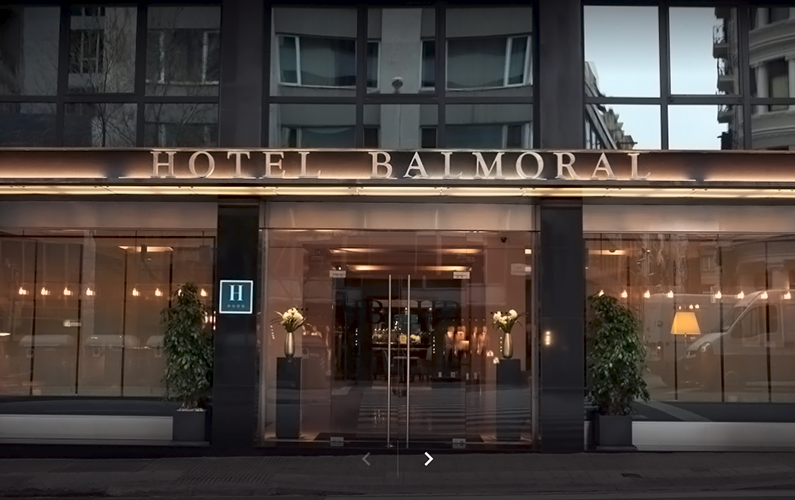 You can find a video outlining the history of the Balmoral Hotel here: https://www.youtube.com/watch?v=g9KpUm47sHU
Solution to customer's need
In cooperation with Samsung and the local system integrator Elipsys, Teleste offered the Balmoral Hotel with an All-IP solution that utilises the existing coaxial cabling inside the building to provide guests with modern, IP-based video and entertainment services. Based on Samsung's HE694 Hospitality TVs in each guest room and Teleste's mini-CMTS, the DAH, at the premises, the solution creates an exceptional alternative for hotels that wish to implement high-speed Internet connectivity but don't wish to rebuild their infrastructures. Reliability of the solution is guaranteed by the DOCSIS technology that is utilised by the operator market to provide fibre-like broadband connectivity for millions of homes across the world.
With this solution, hotels and hospitality service providers can accommodate full IP service delivery considerably faster and in a more cost-efficient manner compared to traditional hospitality solutions, which require investing in separate networks for cable TV and IP-based services. The DAH mini-CMTS is used to convert IP signals to coax signals and transmit them through the existing coaxial cabling to cable modems embedded in Samsung Hospitality TV sets (HE694). As one DAH can serve an entire hotel, the solution is quick and easy to install, and the installation work can be carried out with minimal disturbance to guests and hotel operations. No additional hardware is needed, which also makes maintaining the solution cost-efficient and easy, and minimises any future compatibility issues.
The DAH in a nutshell:
Capacity of 960 Mbps downstream and 160 Mbps upstream
16 downstream and 4 upstream channels
Remote configuration and management
Advanced management tools allowing free capacity allocation
Based on the proven and reliable DOCSIS technology
One device capable of serving up to 400 guest rooms with high-speed broadband connectivity
More information about the DAH and its features and functionalities is available on our web page. Please visit here for more information about Samsung HE694 Hospitality TVs (with DOCSIS modem in-build).
Benefits achieved
The deployment of the solution included a Teleste DAH at the Balmoral premises and a Samsung Hospitality TV in each guest room. In addition to the reduced number of hardware in guest rooms, one of the major benefits for the customer was the low total cost of the deployment. Furnishing the entire hotel with TV and broadband services took only 48 hours, which was a clear advantage from the point of view of hotel operations.