Main challenger in the cable TV market chooses Teleste's RPHY and Video solution
Kabelplus in Denmark deployed Teleste's solution for Gigabit broadband and video services in distributed access network.
Conscia Denmark has aided main market challenger Kabelplus in implementing DOCSIS distributed architecture, based on Remote PHY technology and a separate Auxiliary video core from Teleste utilising Teleste's DAN300 R-PHY node and Luminato video headend together with the Cisco CCAP core.
Customer need
Kabelplus, the main challenger in the cable TV market in Denmark is targeting CaTV networks around the whole country and has been looking for a very flexible and scalable Docsis distributed architecture solution to work together with its existing already successful Cisco CMTS platform. With the Cisco CMTS centrally located in Denmark it should be very simple and easy to provide Video and Gibabit broadband services in Docsis 3.1 networks of different sizes around the country. Especially serving a variety of small and large networks can challenge the flexibility and scalability of the solution needed.
Hence, the vision was to build on the well-integrated Cisco CMTS and utilise this investment in extending into new geographical areas in a flexible and scalable way.
Solution to customer's need
To provide Kabelplus with a future-proof solution for Gigabit broadband and video services, Conscia Denmark, a longtime Cisco Gold partner and systems integrator, suggested an implementation of DOCSIS 3.1 based Remote PHY technology in Kabelplus' network. This would essentially mean "moving" the PHY part of the CMTS into the network being handled by the R-PHY node. Teleste's DAN300 R-PHY node was the obvious choice for the implementation as it has already reached a mature and proven market ready level together with the Cisco cBR8 CCAP core.
Apart from the R-PHY node, Kabelplus also chose to implement a dedicated separate Auxiliary video core to handle the video distribution based on Teleste Luminato video headend. In its newest iteration, the Luminato video head provides multiple 10 Gbit/s capacity while maintaining the most compact formfactor in the industry at just 1RU. Its flexibility and scalability are ideal for serving different sizes of networks and perfectly suited for the varying channel mix that Kabelplus may encounter.
Benefits achieved
The Remote PHY infrastructure allows Kabelplus to reach remote networks with an IP infrastructure called CIN that interfaces the Cisco CCAP core, Luminato auxiliary video core and DAN300 Remote PHY node. The CIN (Converged Interconnect Network) can expand access throughout the whole of Denmark, connecting R-PHY nodes to the centrally located CCAP and auxiliary video core, providing true nationwide coverage and easy access for potential new customers of Kabelplus.
In this setup, the R-PHY node is instructed to receive video feed directly from the distant auxiliary video core without routing the video feed through the CCAP core. There is no need to route the video feeds through the CCAP core as the Teleste Luminato platform implements the needed L2TP tunnelling and GCP protocol layer to provide easy video access for the DAN300 R-PHY node.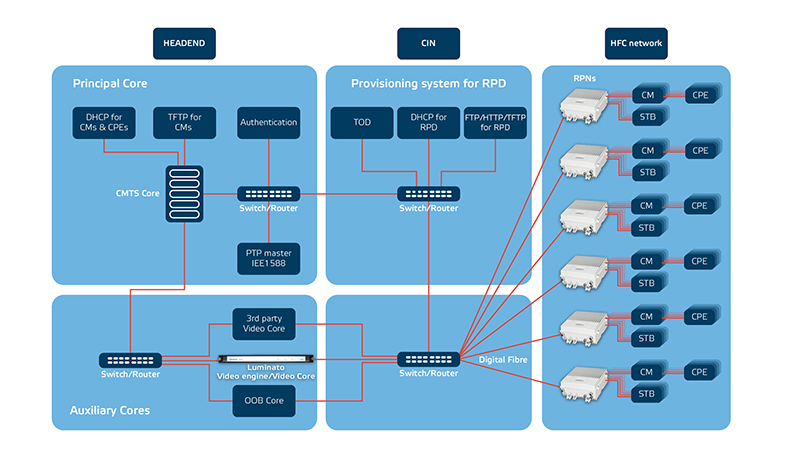 Several auxiliary video cores can potentially be placed into the network as may best serve individual network needs, and with the versatility of the Luminato video platform it can easily be extended from its current role as a dedicated auxiliary core to also include local video reception, multiplexing of multiple video feeds etc. All from a 1RU formfactor.
There are a number of advantages to separating the video feed into an auxiliary core. First and foremost, a video headend is specifically designed to handle video services in a lot more detail than a CCAP core. Initial video distribution requirements may change over time and develop in a more complex direction, something a dedicated video core is better suited to.
Separating the video distribution from the data distribution is also a major advantage from an operational point of view, especially in larger organisations where parts of the networks are handled in different departments.
Kabelplus has chosen to make full use of the digital CCAP core/R-PHY/video infrastructure and has implemented all the TV and Data services on IP. One additional option available on the DAN300 node is to handle an RF overlay feed if a specific implementation would call for this. This could come into question in case of, for example, a legacy RF-based TV service, a second TV and data service provider or if a certain transition period requires services to be delivered via an RF overlay. In any case, Kabelplus is well prepared for such possibility in any of the opportunities that it may encounter.
Conscia has aided Kabelplus in integrating the Cisco CCAP core and Teleste R-PHY and Luminato headend into Kabelplus' current operating environment in record time, securing continuous and seamless operation even in the transition phase. This provides Kabelplus with a very modern and future-proof and flexible CaTV infrastructure that will last for many years to come and gives the Kabelplus the ability to provide Gigabit and TV services at a fraction of the cost of a pure fibre infrastructure.
Are you interested in learning more about the implementation and benefits? Please contact Teleste's or Conscia's representative.