Unified IP video solution for city center monitoring in Paris
One of the most advanced public space security systems in the world, bringing safety to the entire greater Paris area with more than 10 million inhabitants, and tens of millions of tourists and other visitors annually.
Built on Teleste's video security and management solution, Teleste's installation offers a single tool that supports the needs of efficient decision making and fits the needs of multiple authorities, including the police, the fire department, traffic enforcement, criminal investigation and counter terrorism among others. The system is operated by the Paris police authority, Préfecture de Police de Paris.
Today, the Paris system covers over 25,000 cameras and 2,500 operators with different access privileges. It is connected to the whole public transportation network in and around Paris (SNCF, RATP) and constantly expanding to also cover other parts of France. Thanks to the use of the our video security system, Paris' Prefecture de Police reported about 7000 arrests over 2 years, including a predominant role during the investigations on Parisians terrorist attacks in January and November 2015.
Customer need
One of the key objectives for the installation has been to offer a single tool that supports the needs of efficient decision making and fits the needs of multiple authorities, including the police, the fire department, traffic enforcement, criminal investigation and counter terrorism among others.
Additionally, the installation needs to enable mission-critical, temporary security operations such as video surveillance on the move and security for special events including large, international conferences.
Solution to customer's need
Teleste's deployment in Paris is built for the direct management of cameras within the Paris city center. The system also interconnects and interoperates with various other video security networks across the Paris area, e.g. the entire Paris area metro and rail services.
Approximately 2,500 operators
Currently 25,000 cameras in total and still expanding
Backbone of a 400 km and 2 x 10GE fully secured and redundant optical network
More than 600 operating positions
More than 55 monitoring centres
Main features and functionalities offered by Teleste's S-VMX:
Networked system architecture
Authentication of users with different user privileges
Access to live and recorded video with indexed data and time stamps
Authentication and watermarking of evidential video material
User-friendly and unified user interfaces
Easy federation and control of sub-systems and 3rd-party systems
Support for unlimited number of simultaneous camera connections
Support for a highly developed Geographical Information System (GIS) with sharing
of live streams and interactive map overlays on the same monitor view
Secure storage and Interface to digital locker for digital signature and authentication
Advanced information and cyber security for signing, encryption, authentication, PKI,
and deep IT integration
ONVIF compliant, gateways to multiple interfaces and 3rd party products
Network extensions for mobile operators
Mobile technologies
Teleste's mobile technologies allow secure mobile connectivity between the operation centre and the police and security forces in the field. The technologies enable many different possibilities and functions for CCTV mobile operation, including pushing HD video from the operating centre to mobile devices, and controlling mobile cameras from tablets.
The technologies allow the control centre to utilize tablets and smartphones for accessing live and recorded video pushed by, for instance, the police through phones in the field. It is also possible to stream high-quality live video, and take video clips from a phone's camera and store them in a central recording platform on the fly as evidence material. Additionally, police officers on the move are able to directly access and control any camera in the entire video security system.
Extensive cyber security and communication encryption is guaranteed by the best of cryptographic technologies (PKI + RSA and multi-factor authentication, TLS, Blowfish and AES).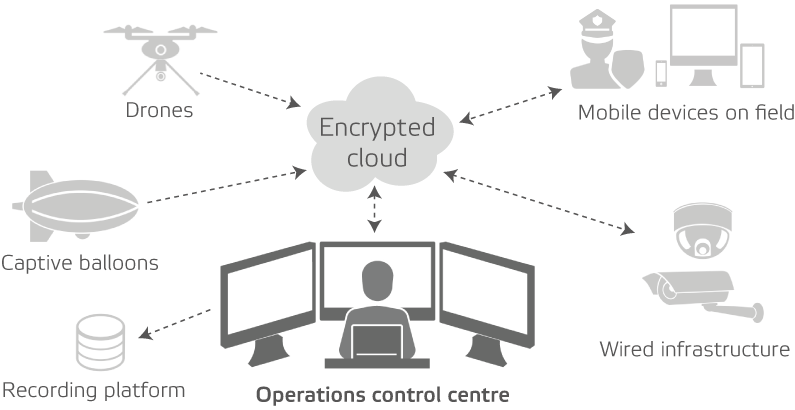 Benefits achieved
The system is is designed to maximize the added value to the customer, and it creates an evolution path to smart situational awareness security system. It offers virtually unlimited federation of different types of security and information subsystems that make it possible to efficiently use video for recognizing behaviour as well as detecting and tracking persons, objects, events of interest and even trends.
By utilizing Teleste's Command & Capture™ software, the system also creates an affordable real-time decision making tool for operation centres. It allows seamless federation and control of all events and tasks, centralized to a single operating point. Information from e.g. mobile and aerial devices can be integrated real-time into the overall video management system and full situational awareness is achieved by visualizing all the information through the same GUI and on a video wall.
The size of the controlled system can be dynamically expanded, or scaled down, and interconnection to any kind of 3rd-party system can be built within a couple of days. The application can adapt even to the most complex systems as well as third-party applications without the need for any application-specific integration.
S-VMX benefits in a nutshell:
Scalability: With the S-VMX, you can build a security system that is fully secured, easy to expand and ready to grow with your future needs.
Modular and flexible architecture: The S-VMX architecture is modular and flexible. The solution consists of elements that can be easily adapted for the needs of a specific project.
Unlimited integration: The S-VMX offers simple and fast integration. It allows utilizing data produced by third-party systems, and operating those systems from a unified interface.
Wish to learn more?
Read Olivier Nitre's post Paris as the pinnacle of public safety on Teleste Hub!